100% Waterproof WATERLOK™ Technology
Lifetime Bonded TPU Waterproof Coating
- (inside and out)
Fully Welded Seams
Submersible Zippers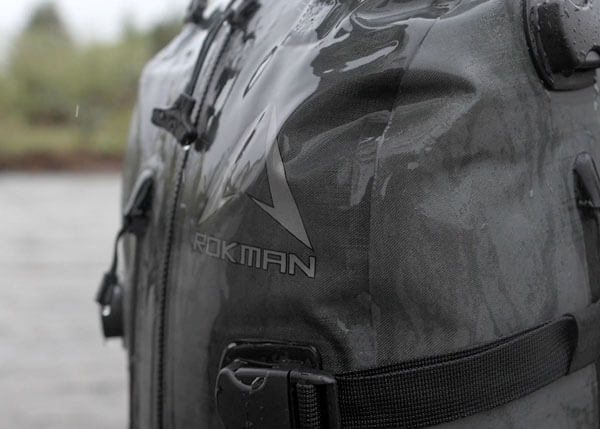 WATERLOK™
TECHNOLOGY
So waterproof, that with a few puffs of air and a secured zipper, the filled pack literally floats on water.
Stackable and Adaptable
ROKMAN's patented METAMORPH Quick-Change System allows you to readily configure your backpack in a multitude of different ways. The three different packs and pack frame all connect individually to ROKMAN's base Core-Flex Harness and can also be stacked for even more options.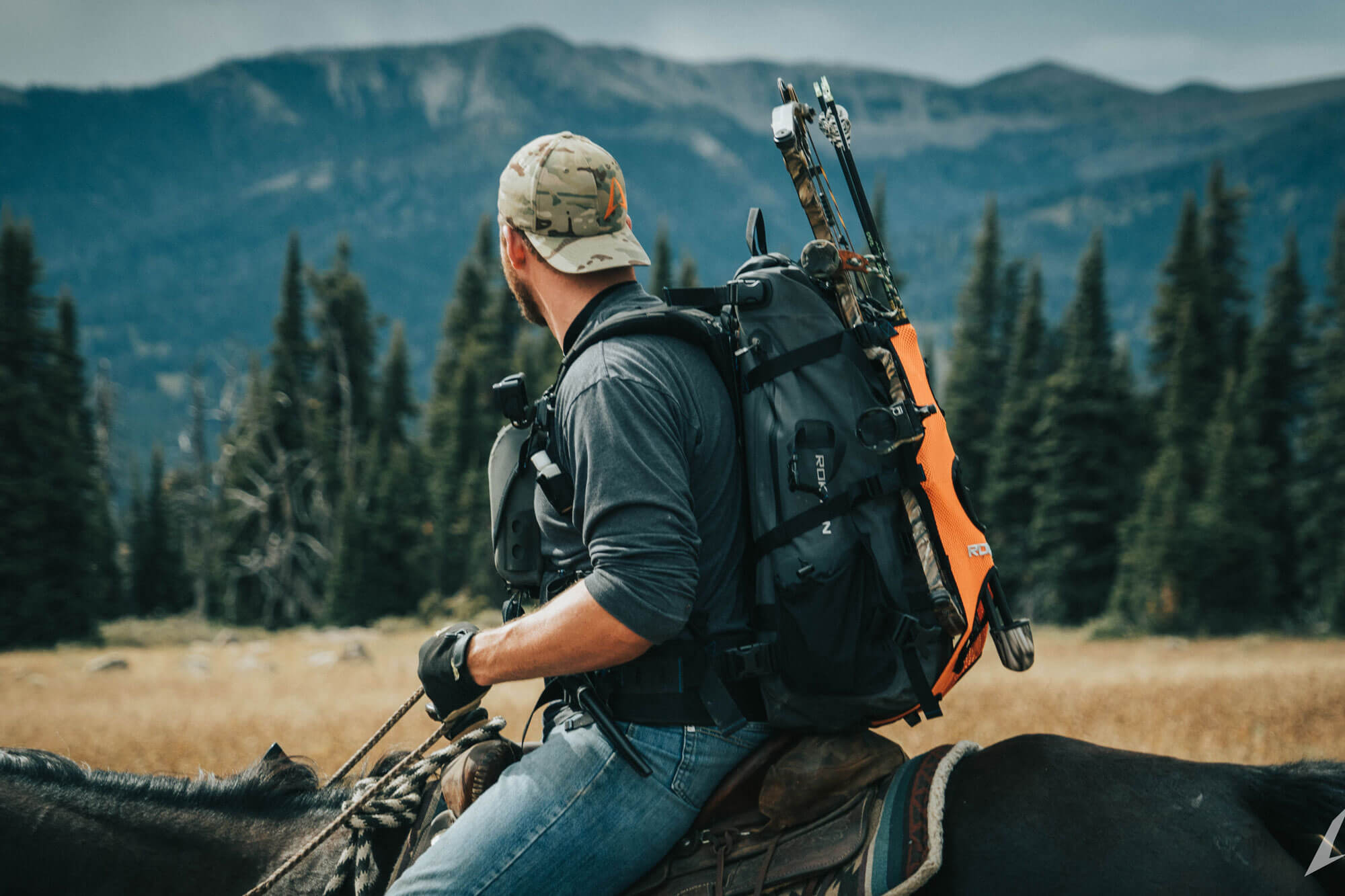 A ROKMAN® Backpack can be configured in multiple different ways.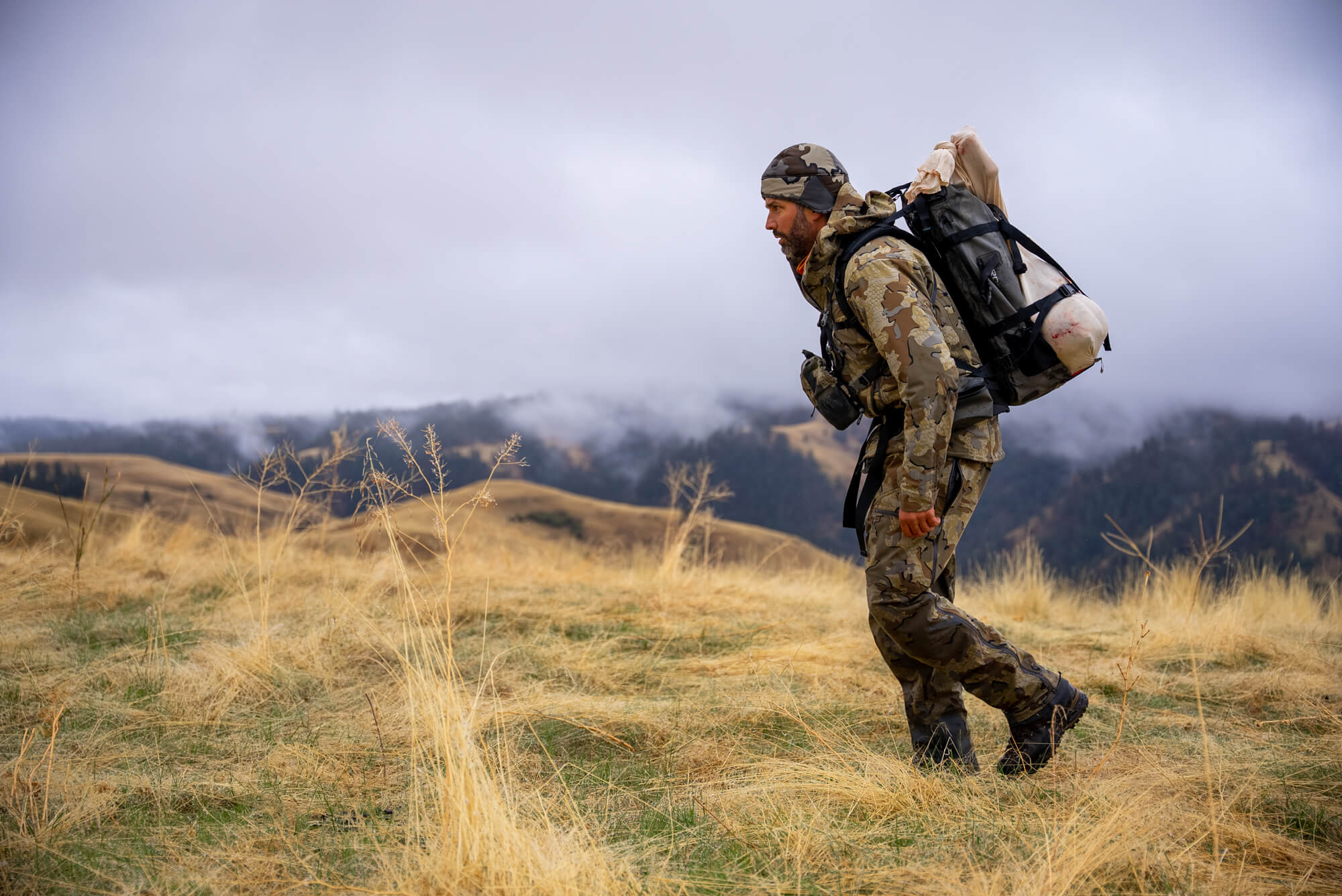 It all starts with the core-flex harness,
The Foundation of the ROKMAN Backpack System
You can't really assess comfort until you have an elk quarter on your back. Nothing is as comfortable, customizable and adjustable as ROKMAN®.
TORSO ADJUSTMENT
One-size-fits all (adult) via 6 torso adjustment points.
CARRYING THE LOAD
The backbone is constructed from high-end carbon fiber, making it lightweight, incredibly strong and flexible.
PADDED WAIST BELT
A padded waist belt that offers fast and secure adjustability and that is engineered to carry up to 240 pounds.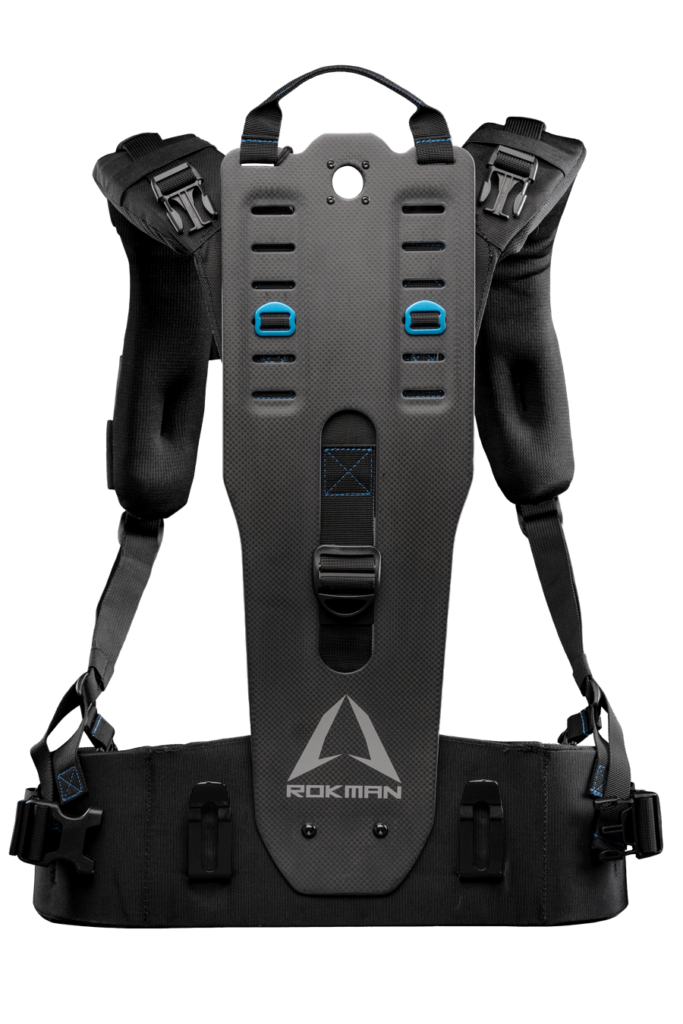 PADDED SHOULDER & LUMBAR SUPPORT
The shoulder straps and lumbar support are constructed of ultra-soft spacer mesh and foam padding designed for maximum comfort and support.
MOVE-WITH-YOU™ BACKBONE
An anatomically curved, flexible carbon fiber Move-With-You "backbone" that is designed to match the curvature of your spine and also flexes with you as you move.
QUICK ACCESSORY-BELT HOOK
Any accessory with a belt loop can be attached.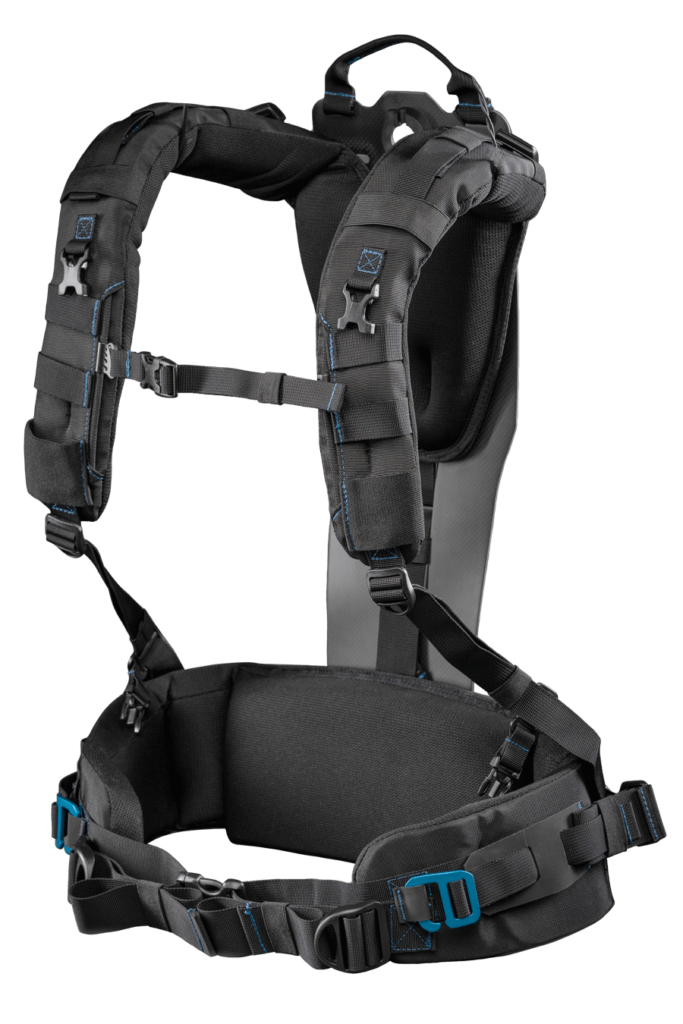 Flexes as you move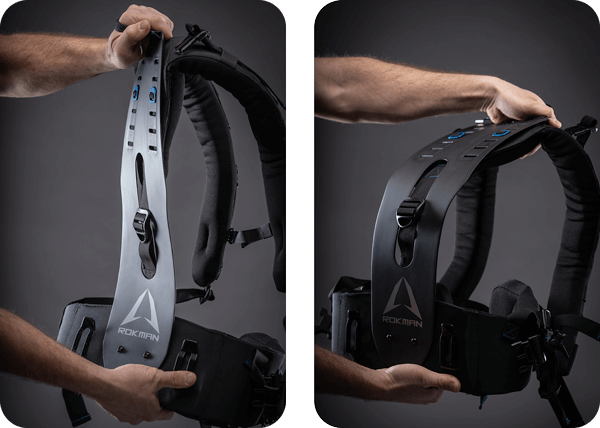 ROKMAN's exclusive and insanely simple
"Pin-and-Pocket"

Attachment System
The ROKMAN® Core-Flex Harness accepts all ROKMAN® packs or the pack frame which attach via the insanely simple "Pin-and-Pocket" Attachment System. Simply slide the two "pockets" on the pack or frame over the two "hooks" on the Core-Flex Harness. Then drop the pin through the post, and attach the buckles. It's so easy you can do it in the dark or with gloves on!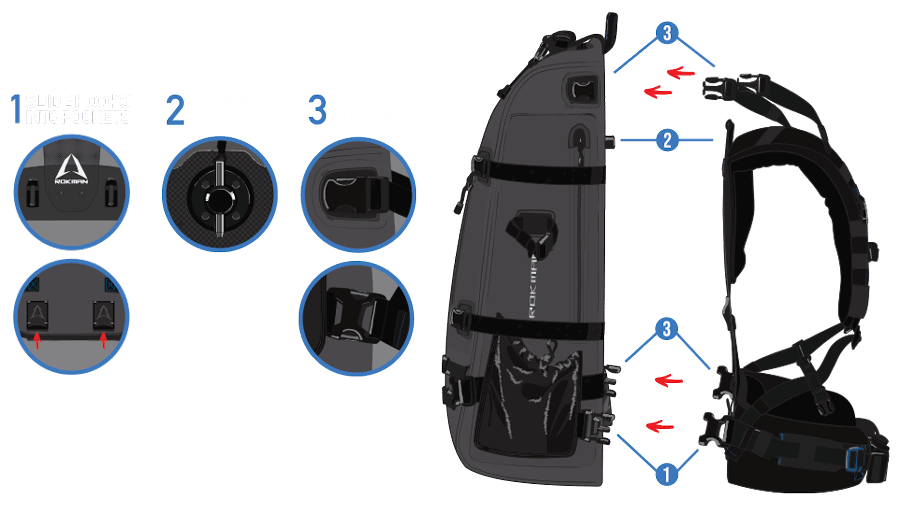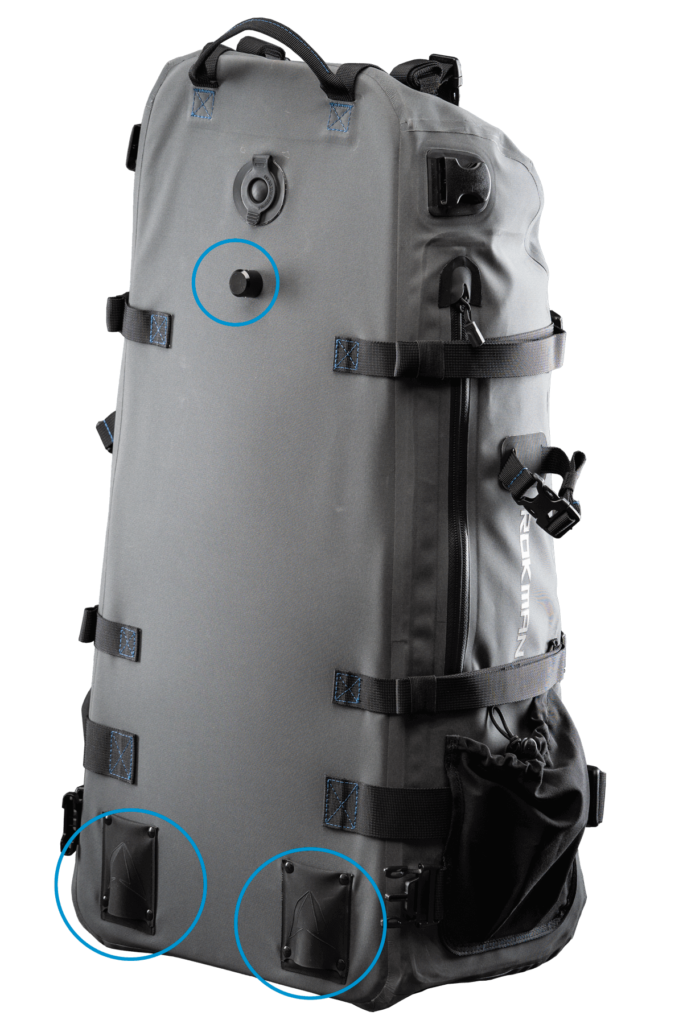 NOSE HOLE STOWABLE STRAP
"Simply brilliant!"
Holds the animal's nose so the head doesn't sway.
NOSE HOLE
This clever stowable strap is designed specifically to hold the head of a big game animal on the pack frame. With the animal's nose protruding from one of the three custom-shaped "nose holes," the strap keeps the head from sliding or swaying side-to-side!
STOWABLE STRAP
Permanently connected, the blaze orange Nose Hole Strap is made of a heavy-duty mesh fabric that stows under the frame. Whether hauling your gear or packing out a moose, elk or deer, there is nothing like a ROKMAN® stowable strap.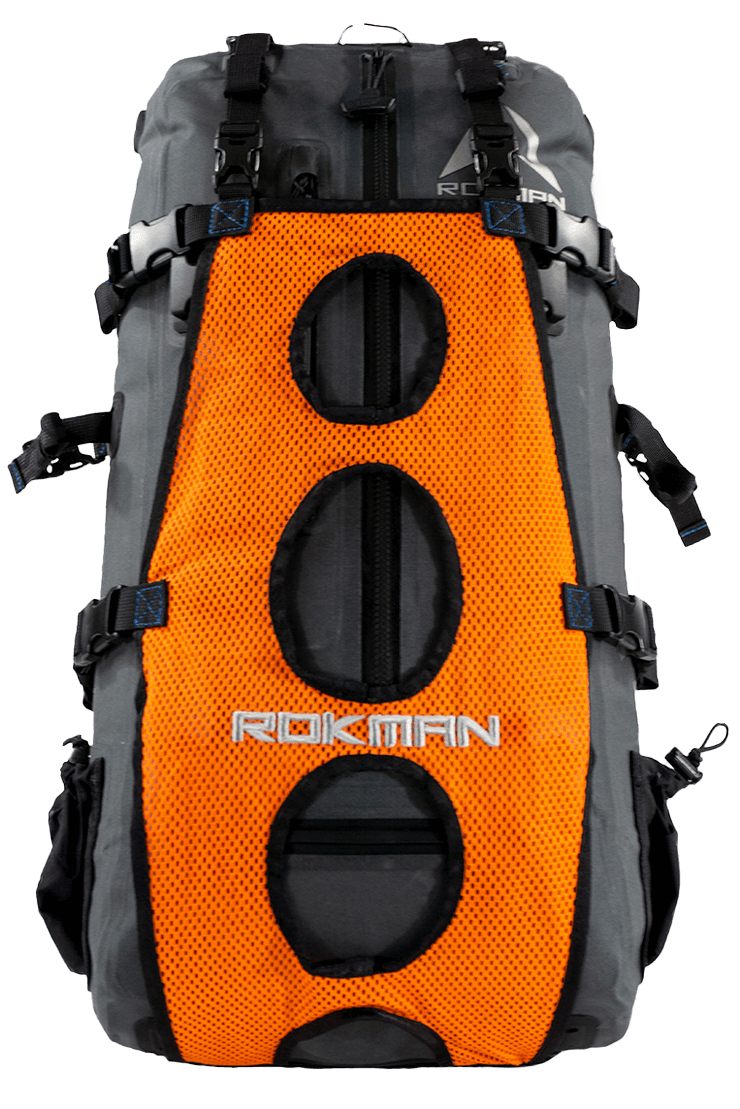 Also great for packing your bow.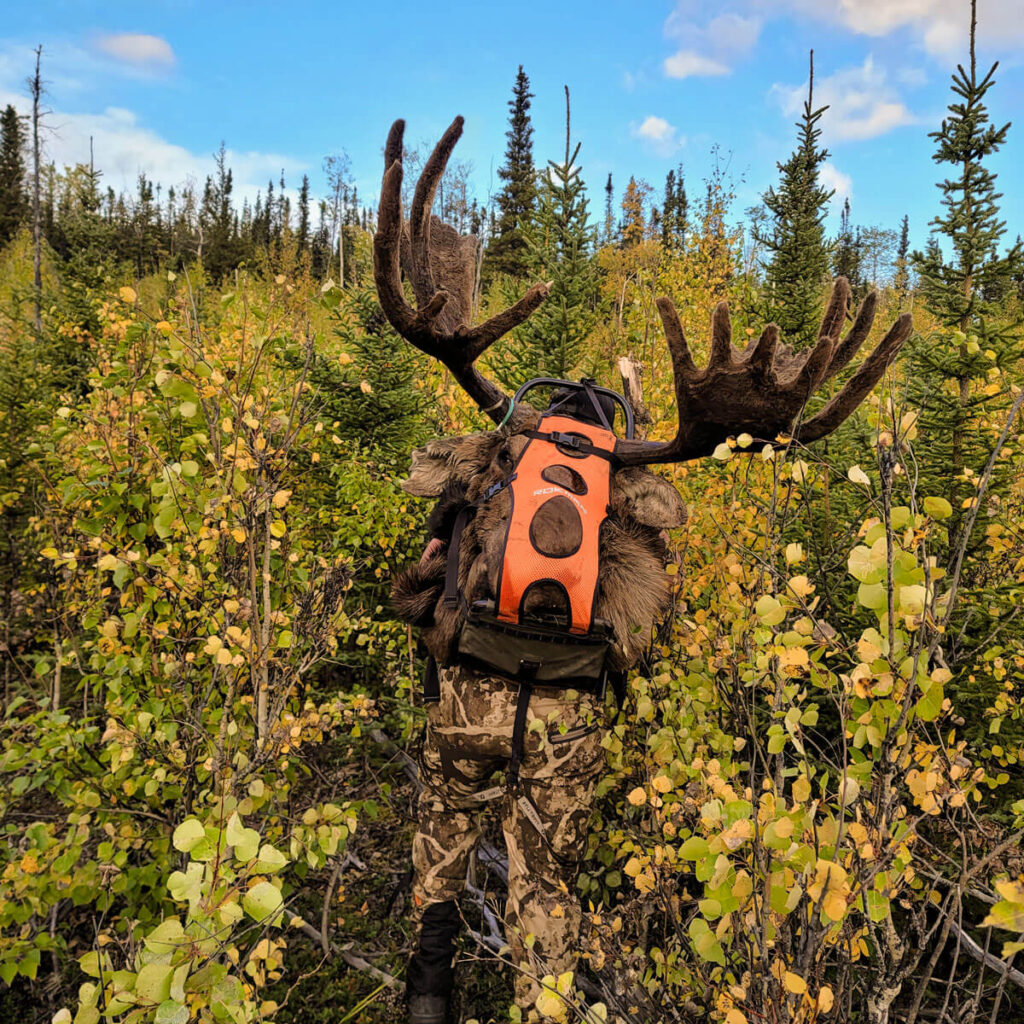 Probably the best thing you can do is to add a waterproof pack to your hunts. So many times my stuff has been wet in the field and now it's not thanks to Rokman Waterproof. Rokman has been a really nice addition to having in the mountains on my hunting trips! They are very user friendly and easy to manipulate in the field. My favorite is the pack frame along with the 2500 pack. You can fit a lot in these packs. I've even packed out an elk quarter.
-Kristy Lee Cook
The Most Wanted List TV show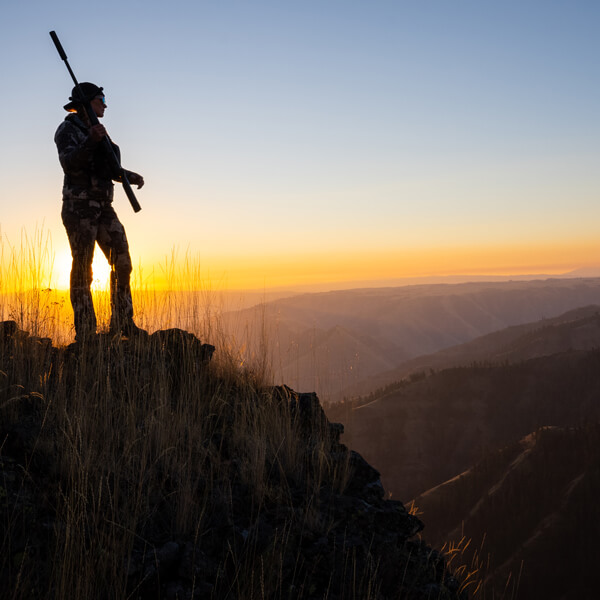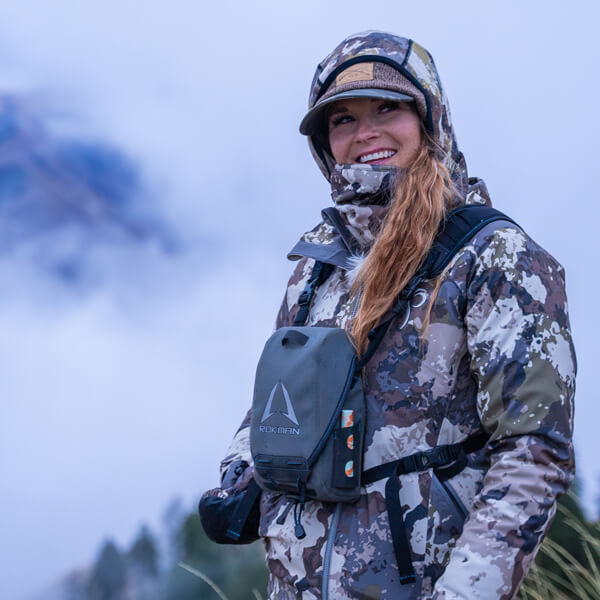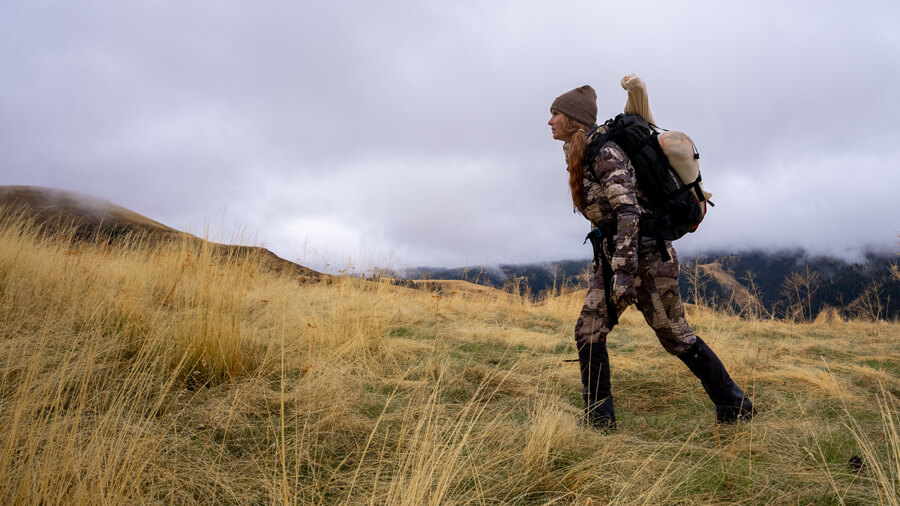 - PERFORMANCE GUARANTEE -
Our waterproof METAMORPH™ Quick-Change Design is extremely fast and easy, giving you the freedom to enjoy more time outdoors. We are so confident that your customers will love their new ROKMAN® Backpack that we guarantee it. Use it for 30 days and if it's not the most versatile, waterproof backpack you've ever used, we will buy it back.